Just one image in today's blog; A scenic view of Lettuce Lake.
For differing reasons, we needed to escape on Sunday morning and found ourselves at Lettuce Lake just after they opened.
There was not a creature in sight for most of the visit and in truth it was the shortest time I ever spent there. I lie. High up in distant branches of a tree were a couple of small birds that flitted by so fast we barely saw them.
Adding insult to injury, it was uncomfortably hot and humid with the only saving grace being that most of the walking we did was in the shade of trees that overhang the boardwalk.
We only found the one moment that even remotely made the trip there worthwhile and this was the view from atop the structure that towers over the lake and provides some sense of the beauty that surrounds you there.
Here it is and I hope you enjoy!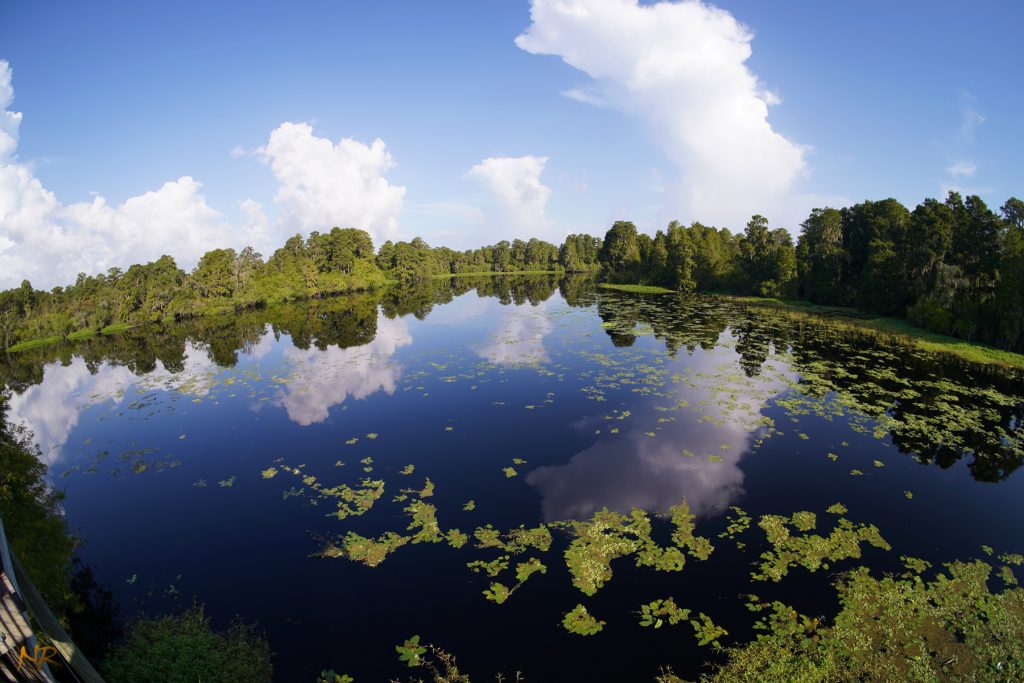 This is the same place that I sprinkled some of my Dad's ashes several years ago and so it has a meaning for me that perhaps others don't feel.
So it did give me that one moment of solitude that I yearned for after weeks of losing battles and serious stresses.
Being able to find a moment of solitude can be instrumental in turning around the chaos in life and I hope it will be so in my case.
There are many times in our lives when all around us crumble and we seem to be facing defeat in every aspect that is important to us. If you are like me, you look for a single win to help turn the tide. Something that you can cling on to and begin a descriptive of what is happening with the phrase "at least" attached to the win.
In the absence of a win, giving yourself some respite can be a real godsend. We can't always just cope with setbacks and defeats. There has to be a rainbow. Something that makes life worth the effort.
And if the natural rainbow of a win doesn't come along, it is up to us to create one.
But don't get me wrong. The rainbow doesn't need to be a win. Simply the absence of a loss can be enough when all we are experiencing is loss after loss.
Therefore a simple moment of solitude, a small meditation, a minor comfort, can provide the color range from which we can assemble our rainbow. Looking at that picture from Lettuce Lake provided me that moment this week. It didn't hand me a win. It didn't create an "at least" opportunity. But it did give me enough space to just step back and regroup for the next onslaught.
And sometimes, that is all we need.
… just a thought!